The knee joint is a complicated structure that is prone to a variety of injuries. Knee injuries can be painful and debilitating. However, chiropractic care can help. At Renton Center Chiropractic & Massage Therapy in Renton, WA, our chiropractor provides a wide range of natural treatments for knee pain and other ailments. Our goal is to help you return to living a healthy, pain-free life.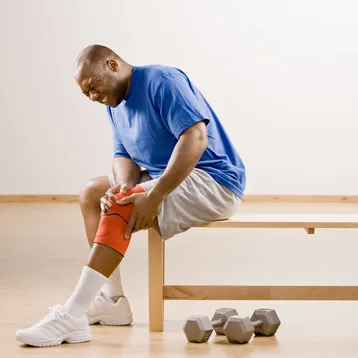 Knee Pain Causes
A number of things can lead to knee pain, such as a knee injury from a fall at work, auto accident, sports activity, or overuse. The injury may relate to the muscles, tendons, ligaments, bones, or meniscus cartilage. All of these bones and tissues make up the knee and work together to provide range of motion. When one area is affected, it can cause pain around the entire joint.
Common injuries include muscle strain or ligament sprain, meniscal tears, dislocation, and fractures around the knee. Repetitive use and age-related wear and tear sometimes lead to the following painful conditions:
Knee bursitis
Tendinitis
Osteoarthritis
Gout
IT band syndrome
Patellofemoral pain syndrome (runner's knee)
In some cases, pain is related to obesity, flat feet, or uneven distribution of body weight due to spinal misalignment.
Typical Knee Pain Symptoms
A knee injury or condition may cause persistent or off-and-on pain, as well as trouble bending or extending the joint. Activities such as climbing a stairway, kneeling, or squatting may all of a sudden become difficult to do. Other possible symptoms are:
Swelling or tenderness
Limping
Locked knee
A grinding or clicking sound when walking
Weak knee or a feeling your knee will "give out"
How Our Chiropractor Can Help
When you visit us with a knee injury, our chiropractor will first assess your knee, symptoms, and medical history during an extensive evaluation. A spinal exam may also be performed to check for postural imbalances. After a diagnosis, our chiropractor will create a personalized treatment plan for your condition.
Manipulating and adjusting the knee is helpful in realigning the bones and soft tissue. Some patients begin to feel relief almost immediately. Trigger point therapy, massage therapy, and exercises provide further relief for swelling, inflammation, and muscle pain. These natural methods also encourage soft tissue healing. Our chiropractor will provide you with strengthening exercises to increase flexibility and protect your knee against future injuries.
Visit Our Chiropractor in Renton, WA for Knee Pain Relief
If you are experiencing knee pain, you don't have to continue suffering. At Renton Center Chiropractic & Massage Therapy, our team will find the right treatments for your knee injury. Our all-natural methods will alleviate your pain and help your knee heal. We are happy to answer any questions you have. Call us today to schedule an appointment or to learn more.